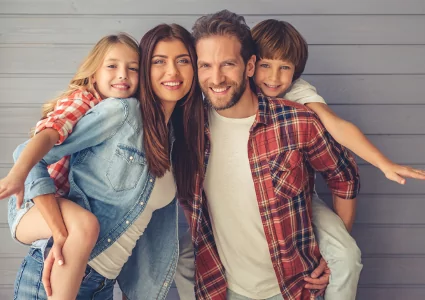 Keeping your natural teeth for a lifetime is a completely attainable goal. When positive dental habits start as soon as teeth show over the gum line, a lasting natural smile becomes possible. As part of our dedication to quality dentistry, Dr. Erin Sutton provides family dental care for those in Fort Walton Beach and surrounding Southern Okaloosa County residents.
Call Emerald Coast Dentistry to schedule an appointment for yourself or any of your loved ones, both young and old (and every age in between!).
Early Detection and Prevention
Taking care of your smile throughout your life prevents many complications. Our practice takes preventive dentistry seriously. We provide thorough examinations to determine if any issues exist and administer gentle cleanings on a routine basis. We ensure teeth are in their best shape to withstand a lifetime of use.
Patients with greater susceptibility to decay or other dental problems can receive additional preventative measures such as sealants and fluoride treatment. Sealants protect teeth with deep fissures from developing decay in areas that are difficult to clean. Fluoride provides teeth with the natural building blocks it needs to remineralize and bolster their strength.
Restorative Care and Maintenance
As we age, our smile can begin to show wear. Decay, discoloration, and damage can affect both the function and appearance of your smile. With the latest advancements in dentistry, tooth restoration is achieved with natural-looking results. Restorative options offered at Emerald Coast Dentistry include:
Crowns restore the structure of a tooth damaged by decay or trauma. A porcelain cap protects the natural tooth from further issues while restoring its structure and function.
Bridges replace up to two teeth using a prosthetic made to mimic your natural teeth. This procedure requires altering adjacent teeth to place crowns that secure the prosthetic in place.
Dentures are appropriate for individuals who have no healthy teeth remaining or are missing several teeth throughout their smile. Full or partial dentures are proven replacements for missing teeth that allow you to have a full smile again.
Dental Implants are the comprehensive replacement for missing teeth. They're able to renew your smile whether you need to replace a single tooth or an entire arch. Dental implants restore both the tooth's root and crown for natural-feeling and healthy results.
Explore your Options
Keeping your smile healthy and functioning well is especially important to avoid dental issues. Call Emerald Coast Dentistry in Fort Walton Beach for family dental care that is designed to meet your needs. Dr. Erin Sutton and her team of dental care providers are committed to helping you and your family achieve and maintain their best smile yet.