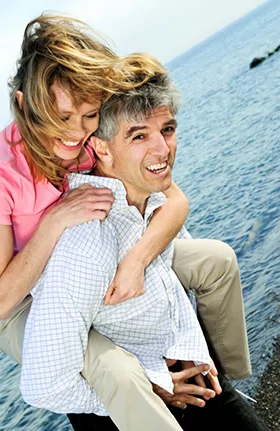 Missing teeth can make you keep your mouth shut tight. But with custom-fitted dental implants from Emerald Coast Dentistry in Fort Walton Beach, you can smile wide again! Artificial roots fill in the gaps in your jaw and are capped with dental crowns, resulting in an attractive smile you'll be excited to show off.
Reasons to Get Dental Implants
Dental implants can improve your appearance and your overall oral health. Common reasons for getting implants include:
Replacing one or more missing teeth
Resolving a misaligned bite by preventing teeth from shifting to fill gaps
Making chewing less painful
Making speech more intelligible
Restoring the strength and appearance of facial tissues
Providing more support for a bridge or crown
Allowing a patient to confidently boast their teeth when they smile
Whatever your reason for getting dental implants, Emerald Coast Dentistry can ensure the best and most natural-looking results. We can also repair or replace existing implants that are damaged or worn.
What is the Process for Getting Dental Implants?
The process for getting dental implants requires several appointments, but our professionals are committed to seeing your results through from start to end.
First, we will take X-rays and make molds of your jaw and teeth. These will allow us to evaluate your bone and gum tissue, determine the spacing and sizing for your implant, and customize your artificial teeth for maximum comfort and aesthetic.
Next, your implants will be surgically placed into your jaw. The surrounding area will be numbed for painless insertion. For up to six months, the implant will integrate into the bone to act as a new root for your artificial teeth. If needed, a second surgery will place an abutment onto the implant to give your replacement teeth something to attach to.
Finally, your custom artificial teeth will be fitted onto the post of your implant. After your implant has completely healed and successfully attached to your bone, it will be strong enough to hold your new teeth in place. Several fittings may be required to ensure comfort and stability.
Restore Missing Teeth With Dental Implants!
Fill in those spaces and restore your confidence! Emerald Coast Dentistry can provide you with customized and comfortable implants along with occasional tightenings and replacements to keep your improved smile looking great. Call today to schedule an appointment with us.