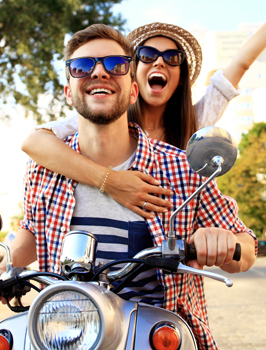 Your oral health is often the first thing others notice about you. Your smile communicates a great deal about your confidence, happiness, and success. Dr. Sutton and Dr. Hills can provide the cosmetic dental care you need for an impressive smile.
Our Cosmetic Services
Emerald Coast Dentistry offers both reconstructive and cosmetic dentistry in Fort Walton Beach to not only enhance your appearance but also improve your dental health for better-looking and longer-lasting results.
Crowns and bridges can cover or replace missing and damaged teeth. These prosthetic caps can be cemented onto a single tooth or several adjacent teeth to fill in gaps, hide discoloration, or protect weakened teeth from further decay.
Complete and partial dentures are removable oral appliances that can replace missing teeth. They can be created to fill in a gap from just one tooth, several teeth, or even all of your teeth.
White fillings are used to fill in cavities, strengthening teeth and improving their overall appearance without being noticeable.
Teeth whitening aggressively targets surface and internal discoloration to restore the shine of your teeth. Using the powerful Zoom!® bleaching gel, our in-office chairside service can brighten teeth by several shades after just one treatment. We also offer a Zoom!® at-home service that significantly whitens teeth in just three days.
Veneers provide a quick way to achieve a dazzling smile that is bright and uniform. Thin sheets of porcelain are bonded to your teeth and can be customized for size, shape, and color. This porcelain is strong and stain-resistant, resulting in a perfect smile that is also permanent.
Botox® injections relax facial and jaw muscles to smooth out wrinkles related to aging or frowning. They can make your smile appear more energized and attractive.
Dental implant restorations place the finishing touches on dental implants. We can place a beautiful crown on your implant. It will match the rest of your smile and feel sturdy in your mouth.
Laser dentistry can improve your appearance and enhance the success rate of other cosmetic services. This advanced technology can kill and prevent the spread of harmful bacteria, remove lesions, and reshape gum tissue.
Transform Your Smile!
Show others the real you by getting a smile that reflects confidence and good health! Talk to Emerald Coast Dentistry to schedule a cosmetic service with our experts today.