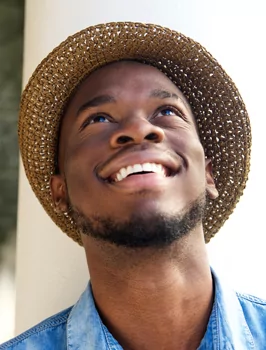 Have you always been bothered by noticeable imperfections in your smile? Well, stop hiding it and do something about it! There is no longer any reason to put up with chips, gaps, cracks, or discoloration when you can easily have them covered over with dental veneers.
You'll be happy to show off your smile again when you see beautiful, bright porcelain veneers smiling back at you. We custom-make them for every patient and design them to fit over your natural teeth. They can immediately transform a lackluster smile into a work of art!
To learn whether dental veneers are right for you, call Emerald Coast Dentistry in Fort Walton Beach, FL, to schedule your consultation with Drs. Erin B. Sutton and Dr. Thomas L. Hills. Please contact us at 850-863-1722.
What are Dental Veneers?
Dental veneers are extremely thin sheets, usually made of porcelain or resin, that are cemented to the face of teeth to cover imperfections. Simply put, veneers are a product of cosmetic dentistry made to enhance the beauty of your smile.
Our dentist may recommend dental veneers to correct several types of smile issues. Porcelain veneers are a preferred option because the color and translucency of porcelain make veneers a perfect match for the natural appearance of your original tooth enamel.
There are also great benefits to using porcelain. It is resistant to staining, so your teeth will stay white and bright for years to come. Resin veneers can also be matched to the natural tooth color of your teeth. With dental veneers, you can achieve a beautiful, natural-looking smile that you will love to show off.
When To Get Veneers
We may recommend dental veneers if you have minor imperfections. Customized veneers can be used on a single tooth, or the entire smile. So, if you would like to improve the overall front facade of your smile, veneers may be the best choice to accomplish that. Veneers are suggested for:
Gaps and off-center spaces between teeth
For discolored and stained teeth that could be whitened
Improving the appearance of irregularly shaped teeth
Correction of slightly crooked teeth
For minor restorations of chipped, worn, or broken teeth
Perfect Your Smile Today!
We welcome a phone call or visit to our office anytime. If you would like more information about custom-made dental veneers and we can enhance your smile, we are happy to assist you!